Just received this email. A fecking fridge magnet (yours for a minimum of £10)
Dear danny-fitz
It's always the same when it comes to the economy: Labour break it, the Conservatives fix it.
In 2010, Labour left an economy that was on its knees. But we've halved the deficit as a share of national income, new businesses are opening, jobs are being created, and wages are rising faster than prices.
Britain is going in the right direction again - and we can't let Ed Miliband and Labour put that at risk.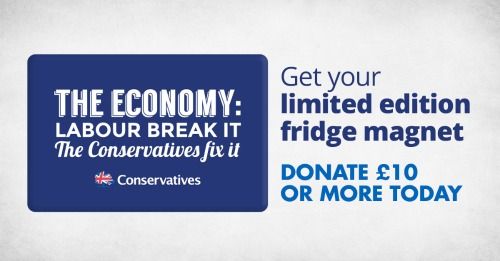 danny - reserve your fridge magnet today by donating £10 or more, and the money you give will help our campaign to win the next election and secure a better future for Britain.
Thank you,
Conservative Campaign HQ