England women for Friday. Hunter and Burford out with injury. Daley-McLean to captain. Lagi Tuima comes in at 13 (Yay), Lauren Cattell comes in at 12 (She's been very poor IMO) and Amber Reed recovering from injury comes to the bench. Burnfield comes in at 6 with Izzy Noel-Smith at 7.
The team: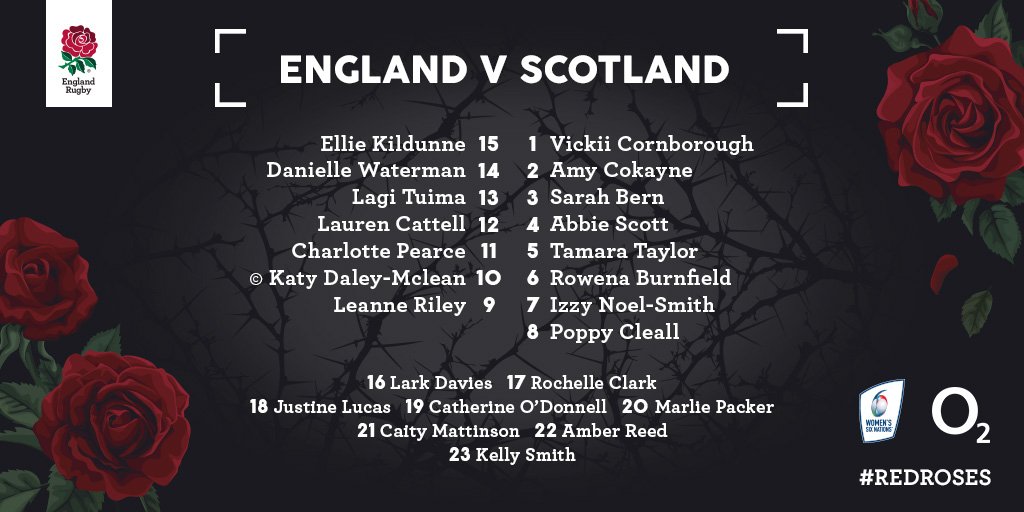 Should be interetsing to see the change sin the backrow because England have so many options there:
Hunter: Classic English 8, always recycles in contact, never shy's form the physical stuff.
Cleall: Powerful and skillful at 6 or 8, plays on the edge and adds to the openside.
Packer: Fast and wild openside. Great at turning ball over and linking in attack
Noel-Smith: Massive engine, does all the unsceen work and everybody else's (disrupts rucks, carries constantly, tackles everything)
Burnfield: Lock in at 6, does a massive amount of the dirty work
S. Brown: Big, big ball carrier, always offers contact option and burst through defenses ruining opponents. Hard to knock off the rucks.
J. Brown: A quick 6 who uses speed over power, similar to Simmonds for the men.
Matthews: 6 with huge aggression and strength and speed always a massive carrying option.
Miller-Mills: Fast, big action backrow who is hugely difficult to bring down, always finds space.
Poppy Leitch: All tackling 6
Every player adds something every different to the backrow