deadduck wrote:
We can always do the old political compass
Even though it seems to place the NZ parties way too far right. No way I should be sitting next to the Greens. I'd hate to see what kind of psycho answers you'd have to put in to get close to where ACT are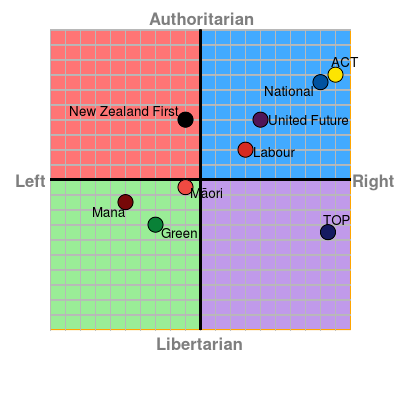 The terms "Left" and "Right" originated in the debating forums in post- Bastille storming Revolutionary Paris.
The "Right" in theses forums were radicals who rejected the existing status quo - ie the absolute power of the Bourbon monarchy and the excessive power and wealth of the church , but who were conservative enough to doubt the wisdom of regicide and the total annihalation of the Catholic faith . They almost univerally consisted of Bourgeois and the dreaded petit-Bourgeois.
They were all universally far to the "left" of any NZ political parties and individual MP's.
The neo-liberal agenda has significantly shifted all our political parties to the "Right"
To my mind the only of Left-centre pollies in our present parliament would be the Maori caucus of Nania Mahuta, Willie Jackson & co and even then the socialist rating , for want of better words , is obscured by their unique perspective of the people they represent.