US CDC research shows that chloroquine also has strong potential as a prophylactic (preventative) measure against coronavirus in the lab, while we wait for a vaccine to be developed. Chloroquine is an inexpensive, globally available drug that has been in widespread human use since 1945 against malaria, autoimmune and various other conditions.
Dr Roy Spencer wrote:On the subject of using antimalarial drugs for COVID-19 treatment, I've compared COVID-19 cases versus malaria incidence by country....

This is amazing. I downloaded all of the data for 234 countries, incidence of total COVID-19 cases (as of 3/17/2020) versus the incidence of malaria in those countries (various sources, kinda messy matching everything up in Excel).

RESULTS, Multi-country average malaria cases per thousand, COVID-19 cases per million, in three classes of countries based on malaria incidence:

Top 40 Malaria countries: 212 malaria = 0.2 COVID-19;
Next 40 Malaria countries: 7.3 malaria = 10.1 COVID-19
Remaining (81-234) countries: 0.00 malaria = 68.7 COVID-19

Again, the units are Malaria cases per thousand "population at risk", and COVID-19 cases per million total population.

In all my years of data analysis I have never seen such a stark and strong relationship: Countries with malaria basically have no COVID-19 cases (at least not yet).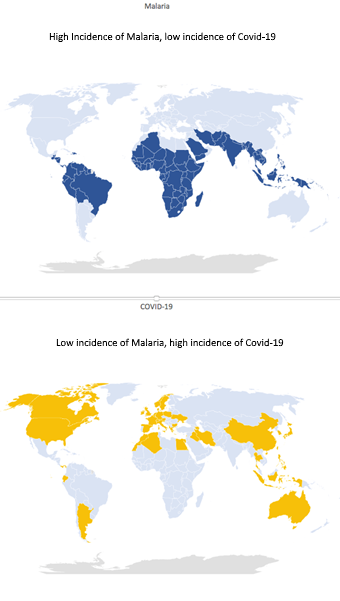 The UK Government have known about the immunity to Covid-19 granted by chloroquine for more than a month since on February 26, 2020, they added chloroquine to the list of medicines that cannot be parallel exported from the UK. Chloroquine was never on this list before.